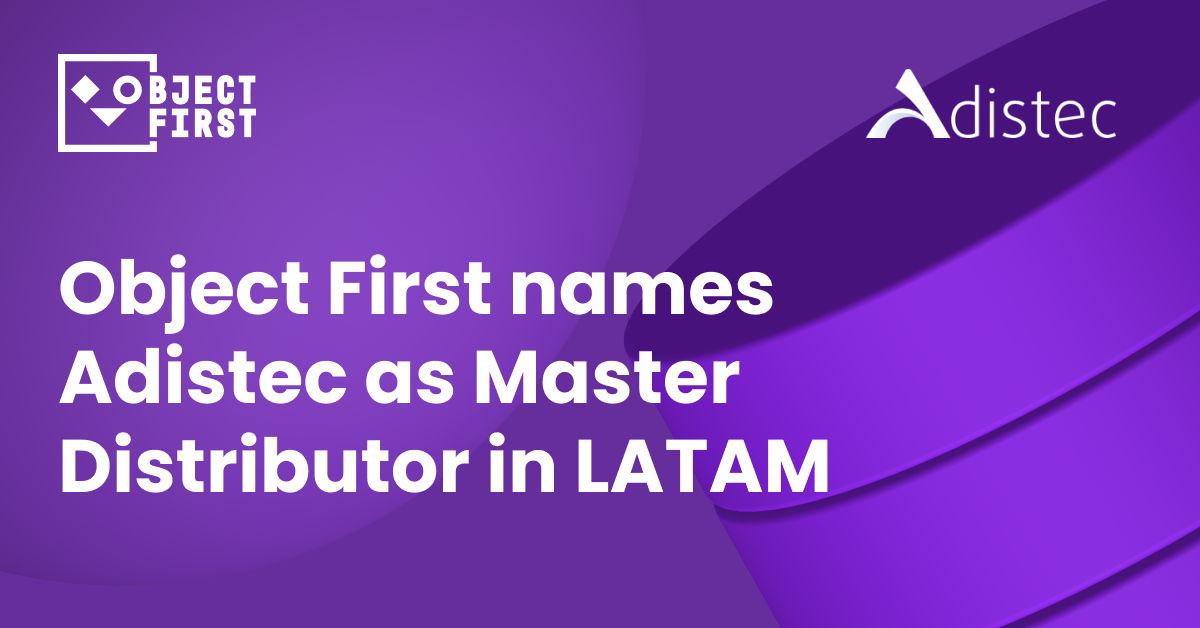 Miami, USA. Object First, the maker of Ootbi (Out-of-the-Box-Immutability) the first backup storage appliance purpose-built for Veeam®, today announced the appointment of Adistec as the primary distributor for their resellers network in Latin America.
Established by Veeam founders Ratmir Timashev and Andrei Baronov, Object First helps mid-size organizations ransomware-proof their backups by delivering effortless out-of-the-box immutability. Ootbi by Object First is designed and optimized to be the best storage for Veeam:
Secure with out-of-the-box immutability that ransomware-proofs backups.
Simple to deploy and manage with no training or security expertise required.
Powerful to support ultra-fast backups and Instant Recovery.
"Ransomware continues to be one of the greatest cyber risks, and over 90% of attacks attempt to destroy backup data,' said David Bennett, CEO of Object First. "Immutable backups are the best defense against ransomware. Object First makes immutable backup storage simple with Ootbi, delivering unbeatable performance without complex management overhead. We are thrilled to extend our presence to Latin America with Adistec to meet the strong demand from Veeam users."
By establishing Adistec as its strategic Distributor, Object First will leverage its expertise in the territory to accelerate growth.
Based in Miami, Adistec is a value-added distributor of datacenter, networking and security solutions, specializing in meeting the unique business and technology requirements of regions across Latin America. Adistec complements its product portfolio with cloud services running in several proprietary datacenters, as well as extensive consulting and educational services. Many media, IT and networking companies, including Fortune 1,000 brands, rely on Adistec to extend their market reach and ensure customer delivery.
Fabian Sperman, President of Adistec said: "Given Veeam's number one market share in the region, the opportunity for an immutable backup solution optimized specifically for Veeam is huge. By combining the commercial and technological capabilities of Adistec with Object First's expertise, we will be able to reach organizations throughout Latin America to deliver the effective data protection they need. Adistec is proud to include Object First in our Portfolio. We look forward to contributing to the success of Object First and its resellers while helping them expand into new markets."
Quebert Soto, Chief Technology Officer at Adistec said, "Administrators can install Ootbi hardware in 15 minutes, with no security expertise needed. Immutable out-of-the-box, it prevents users from changing data and reduces the risk of ransomware. With Ootbi, users can scale linearly -- up to half a petabyte -- to cover a wide range of use cases. Using innovative optimization technology, backup speeds can exceed 4.0 gigabytes per second and recovery speeds 2.4 gigabytes per second on a complete four-node cluster."
Growth Opportunities for Veeam Partners
Micaela Saccone, Adistec Solutions Sales Manager explains: "Object First and Adistec have committed to in-depth collaboration in our distribution relationship to accelerate Object First's growth throughout Latin America and make the marketing, sales and delivery of all our joint services easier and faster." Said Micaela. "Adistec offers a service bundle with these units, ensuring a turnkey solution for our resellers. The bundle includes professional installation and remote deployment services, Adistec Enterprise Cloud Storage, and access to our sales and presales teams to make the offer adaptable to all locations through Latin America."
Object First and Adistec will co-host their official Latin America launch, welcoming sales resellers partners from across the region to explore Ootbi by Object First. Enroll here to join the launch, and learn about the Object First Partner Program: [Webinar Registration Link]
Become an Object First partner today: [Registration Landing Page Link: mktlanding.adistec.com/object-first-partners]
About Object First
Ransomware-proof and immutable out-of-the-box, Ootbi (Out-of-the-box-Immutability) by Object First delivers secure, simple, and powerful backup storage for Veeam customers. Ootbi can be racked, stacked, and powered in 15 minutes. Ootbi is built on immutable object storage technology designed and optimized for unbeatable backup and recovery performance. Learn more about Object First and how to get the best storage for Veeam at objectfirst.com.
About Adistec Adistec is a leader in value-added distribution in the Americas, including the U.S., Latin America and the Caribbean. Established in 2002, our organization delivers 100% IT solutions through channels. We are a team of professionals specialized in Datacenter and Security bringing a portfolio of leading brands in each of these areas to our business partners. We strengthen our partners' business through five business units: Distribution, Education, Professional Services, Cloud Solutions and Adistec Integrated Solutions.